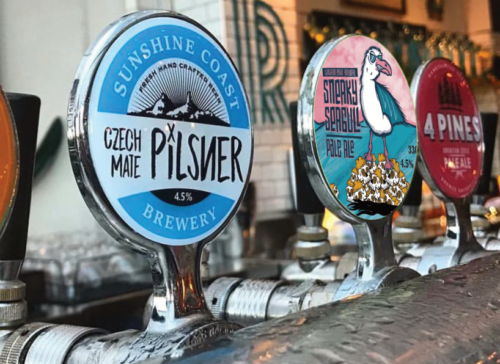 Founded in 1998, it's not only the first craft brewery on the Sunshine Coast, but also the oldest running microbrewery in Queensland. Recently, they approached me to design a label for their Sneaky Seagull Pale Ale, and I was thrilled to take on the challenge.
Breaking away from traditional beer bottle label designs can be tricky, but I embraced the opportunity to put my own spin on it. Starting with sketches, I played around with ideas until I landed on the Sneaky Seagull character, complete with sunglasses to cover up his questionable eyes. To add some edge, I positioned him atop a pile of "hop-eyed" skulls because, let's face it, who doesn't love skulls?
Using hand-drawn elements adds personality and charm to the label, setting it apart from others in the market. Drawing inspiration from the stunning natural surroundings of the Sunshine Coast, I incorporated bold blues and sunset hues into the design. The Glass House Mountains, a prominent feature in the area, and the original label for Sunshine Coast Brewery, were also added to create visual interest.
The end result is a one-of-a-kind label that's sure to catch the eye of beer enthusiasts everywhere. With its unique graphic, bold colors, and quirky character, the Sneaky Seagull Pale Ale is the perfect brew for summertime sipping.
So, why not give it a try and taste the Sunshine Coast difference for yourself?